David Rebein Receives 'Weary' Award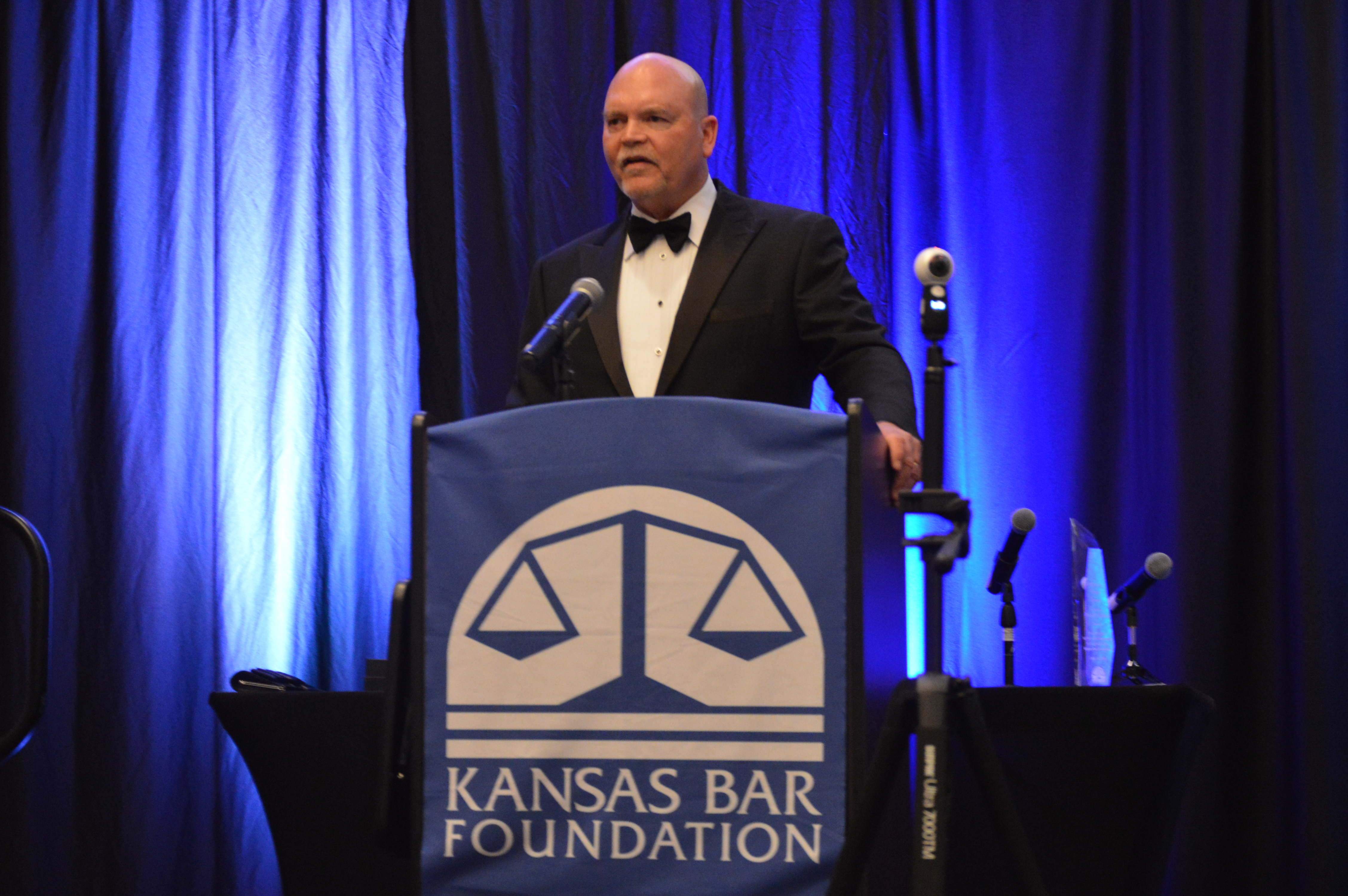 David Rebein was recently awarded the Kansas Bar Foundation's most prestigious award, the Robert K. "Weary" Award. The award recognizes lawyers for exemplary service and commitment to the goals of the KBF.
KBF goals include funding charitable and educational projects that foster the welfare, honor and integrity of the legal system by improving its accessibility, equality and uniformity.
Rebein was selected for the Weary award in part for his outstanding service to the Kansas Bar Association and the Kansas Bar Foundation. He is a past president of the Kansas Bar Association and immediate past president of the Kansas Trial Lawyers Association. He is a Kansas Bar Foundation Pillar of the Foundation and a member of the American Bar Foundation. His service to his community and his profession are exemplary.
"Dave Rebein has been an inspirational leader in defending the independence of the judiciary, improving the Kansas system of justice, and teaching the rest of us how to be better lawyers," stated Richard Hayse, KBF trustee and a past KBA president. "Bob Weary would be proud to see the award in his name given to Dave."
A native of Dodge City, Rebein is a trial lawyer with practices in Kansas and Florida (Rebein Brothers Trial Lawyers). He received his Bachelor of Arts, Summa Cum Laude, from Washburn University and his J.D. from the University of Kansas. Rebein Brothers Foundation was established to support individuals and communities through dedicated involvement, community service and charitable giving. In addition to supporting charitable work through the Rebein Brothers Foundation, Rebein has been a long-time supporter of the Kansas Bar Foundation.
"I believe in fair and impartial Courts and I was taught by my mentor, Jack Dalton, to support the court system. Throughout my career I have looked for ways to protect a person 's right to have their day in Court. The Kansas Bar Foundation is an organization that I have been pleased to support because it shares this goal," Rebein stated.
Rebein is in good company with past recipients of the Weary award. The foundation awarded the first award in 2000 to Robert K. Weary, despite his objection to receiving it. Mr. Weary was a member of the KBF Board of Trustees from 1994 to 2000 and served on the KBF Investment Committee. In 1997, Mr. Weary donated the lead gift for the Kansas Law Center building campaign. Mr. Weary passed away in 2001. In 2017, the Kansas Law Center (home to the Kansas Bar Association and the Kansas Bar Foundation) was rededicated and renamed the Gernon Law Center to honor the memory of the late Robert L. Gernon, former Kansas Supreme Court Justice.
Congratulations, Dave!
Read more here:
https://www.ksbar.org/mpage/kbf_awards