Happy 5th Anniversary, Kathy!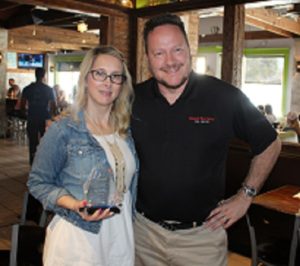 We are happy to celebrate Kathy Stearns for being an integral part of Rebein Brothers, P.A. for five years! As a paralegal, Kathy is an advocate for our clients, making sure they are receiving treatment and helping them to resolve property damage issues. I sat down with Kathy for a few minutes between client calls and asked her some questions about her work.
P: Hi Kathy!
K: Hi Paul!
P: When did you begin working for Rebein Brothers?
K: August 2012.
P: What is your position/title?
K: I am a Florida Registered Paralegal.
P: What is your work history?
K: I've worked solely in Plaintiff, personal injury law firms over the last 24 years. Of course, you know where I've worked for the last five!
P: What is the most rewarding thing about your work?
K: Helping others–many clients come in and this is their first accident ever. They're so overwhelmed and don't know where to start. To be able to take away all the anxiety and build that trust is truly priceless.
P: If you could give one piece of advice to our clients, what would it be?
K: Have proper and adequate car insurance. Too many times we must inform clients the other party did not have any or enough car insurance. Always think about your future and protect yourself from everyone else on the road who is not insured. I know you are currently filming an insurance series for our YouTube channel and I think it a great resource to help people understand the different types of insurance.
P: Thank you for everything you do for our clients!
K: It is my pleasure!